Tekst fra Oslo Konserthus sine nettsider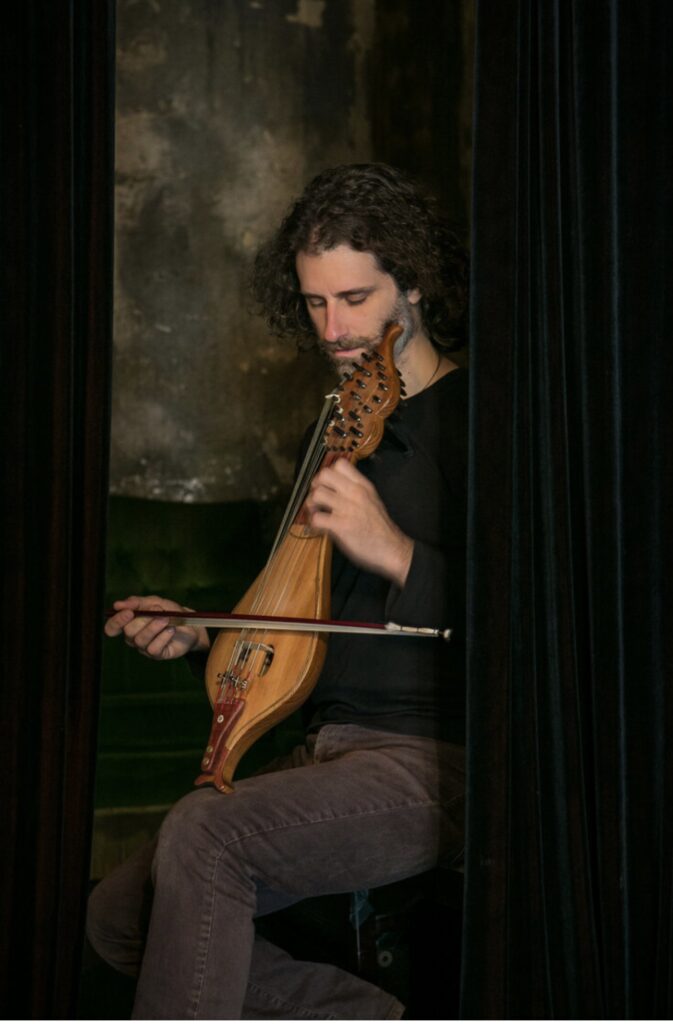 The Classical Cretan Lyra Project
Yiorgos Kaloudis
«The Classical Cretan Lyra Project» is a remarkable musical endeavor that bridges the rich heritage of the Cretan Lyra with Western European music. This project is the culmination of a 20-year research journey undertaken by the talented cellist, lyra player, and composer, Yiorgos Kaloudis.

The Cretan Lyra is an ancient, three-stringed instrument with deep roots in Greek and Cretan culture and history. It is important to mention that the string on the fingerboard is touched by the nail from the side, an ancient technique, and not pressed from above- a fact that amplifies the difficulty of the endeavor.
With «The Classical Cretan Lyra Project», Yiorgos Kaloudis sought to integrate this traditional instrument into the context of Western European music.

To accomplish this, he modified the traditional Cretan Lyra by adding a fourth string, specifically the low C of the cello, and adjusted the interpretation technique on both hands. This adaptation enabled him to perform Classical European music on the instrument. The creation of this «new» evolution and the subsequent introduction of a whole new repertoire opened up vast possibilities and new horizons for the Cretan Lyra.

«The Classical Cretan Lyra Project» stands as a testament to the power of cultural exchange and the transformative potential of music. Yiorgos Kaloudis's relentless dedication and innovative vision have unlocked new possibilities for the Classical Cretan Lyra, elevating it to new heights and introducing it to audiences around the world.
«The Classical Cretan Lyra Project» has also had the privilege of collaborating with prestigious ensembles such as the Utopia and MusicAeterna Orchestras. These collaborations have allowed for a harmonious fusion of the Classical Cretan Lyra with diverse musical styles, further broadening its horizons. Yiorgos Kaloudis takes the Classical Cretan Lyra on a captivating journey through time in his latest album, «La Reveuse – Early Music on the Classical Cretan Lyra». With exquisite sensitivity and exceptional musicality, the instrument breathes new life into ancient melodies, captivating the audience. The album's unique sound color has earned Yiorgos and his Lyra invitations to participate in prestigious performances and ensembles.

This summer, a momentous milestone was reached as the Classical Cretan Lyra graced the renowned Salzburg Festival for the very first time.
This historic debut is a testament to the instrument's growing recognition and appreciation for its boundless versatility and artistic prowess on the international stage.
For more info about the Classical Cretan Lyra, please visit the following links: https://classicalcretanlyra.com/ & https://www.yiorgoskaloudismusic.com